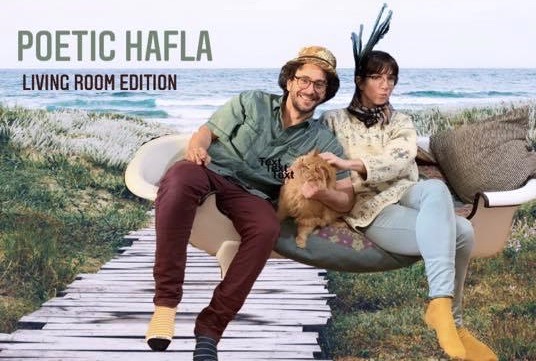 November 29 at 7:50 PM UTC +01 – 9:35 PM UTC+01
Poetic Hafla presents it's one and only online performance: the living room series. Many things in life are very difficult and through the pain and suffering we must look towards the silver lining, the small things that bring us joy. Finding a perfectly wrapped piece of chocolate at the bottom of your bag, left untouched, having time to finally clean all your windows, or watching Angela and Barack on Sunday evening moderate the work of 9 amazingly talented Berlin based artists.
Dance. Music. Media Arts. Spoken Word.
Eat whatever you want, drink whatever you want, smoke whatever you want.
One rule: JOIN US!!! 29.11.2020 
8 pm GMT + 1 time zone Berlin!!! 
Thanks to our friends at Lettrétage for hosting and supporting our event! New work presented by:

Mariam Rasheed | Meher and Desire |Anil Eraslan | Emma Louise | Sydney Rabin | Eba'a El-Tamami | Las Maleantes – Adriana de Montserrat with Arnau Montserrat
Here's how it's gonna work… we asked the curated artists to create segments of up to ten minutes of their work in their flats, we're going to live stream it to your living rooms…Link to be posted in discussion a few days before performance…
PayPal donations not required but encouraged and will go to the artists! See you there y'all and we will see you at the next Poetic Hafla, in real life